November 2019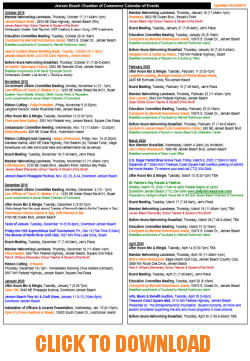 Government Affairs Committee Meeting
Monday, November 4 (12 – 1pm)
Law Offices of Travis R. Walker, P.A.
1235 SE Indian Street Ste #101, Stuart
Speakers: Kevin Abbate, Director, Martin County Parks & Recreation
Bolivar Gomez, Senior Planner, Martin Metropolitan Planning Organization.
Lunch compliments of Franco Construction, Inc.
Before Hours Networking Breakfast – RSVP NOW!
(PLEASE NOTE: Being held earlier in this month due to Thanksgiving)
Tuesday, November 5 (7:45-8:45am)
Bomboloni Bakery
3980 NW Federal Highway, Jensen Beach
Breakfast compliments of Bomboloni Bakery
Ribbon Cutting
Fully Promoted
Friday, November 8 (5:30pm)
Langford Pavilion
Indian RiverSide Park, Jensen Beach
After Hours Mix & Mingle – RSVP NOW!
Tuesday, November 12 (5:30-7pm)
Then and Now Gallery
3551 NW Federal Hwy, Jensen Beach, Square One Plaza
Ambassador Committee Meeting
Wednesday, Nov. 13 (11:45am – 12:45pm)
Elliott Museum
825 NE Ocean Blvd., Hutchinson Island
Ribbon Cutting/Grand Opening
Mega Adventures
Friday, Nov. 15 (5:30pm)
4905 SE Dixie Highway, Port Salerno (Manatee Marina,by Twisted Tuna)
Mega Adventures will offer short boat rides and refreshments will be served.
Member Networking Luncheon – RSVP NOW!
Thursday, November 21 (11:45am–1pm)
Olive Garden
3447 NW Federal Highway, Jensen Beach, Florida
Speaker: Kathleen Dempsey, Community Outreach Specialist FDOT will give an update on Jensen Beach Boulevard construction.
Jensen Beach Elementary School Teacher & Student of the Month
Ribbon Cutting – 9 Round
Thursday, November 21 (1pm – Immediately following Olive Garden luncheon)
3587 NW Federal Highway, Jensen Beach, Square One Plaza
Jensen Beach Pineapple Festival
Friday, November 22, 2019 (6pm-11pm)
Saturday, November 23, 2019 (10am-11pm)
Sunday, November 24, 2019 (10am- 6pm)
Downtown Jensen Beach
(772) 334-3444
www.pineapplefestival.info
A Jensen Beach Chamber of Commerce Event Presented by Mulligan's Beach House Bar & Grill
December 2019
Ribbon Cutting – O French Bistro
Sunday, December 1 (1pm)
Elliott Museum
825 NE Ocean Blvd., Hutchinson Island
Government Affairs Committee Meeting
Monday, December 2 (12 – 1pm)
Law Offices of Travis R. Walker, P.A.
1235 SE Indian Street Ste #101, Stuart
Speaker: Nancy Turrell, Executive Director, Arts Council of Martin County
Lunch compliments of Jensen Beach Chamber of Commerce
After Hours Mix & Mingle
Tuesday, December 3 (5:30-7pm) (Note change from the usual second Tuesday of the month date to the first Tuesday)
Hutchinson Shores Resort & Spa, Drift Kitchen & Bar
3793 NE Ocean Blvd, Jensen Beach
Ribbon Cutting – Curaleaf
Friday, December 6 (5:30)
3631 NW Federal Highway
Jensen Beach, Square One Plaza
Taste of Jensen
Tuesday, December 10 (5:30-8pm)
Downtown Jensen Beach
Member Networking Luncheon
Thursday, December 19 (11:45am–1pm)
Cafe Boonma
3720 SE Ocean Blvd., Sewall's Point, Harbour Bay Plaza
Speaker: Nancy Turrell, Executive Director, Arts Council of Martin County
Felix A. Williams Elementary School Teacher & Student of the Month