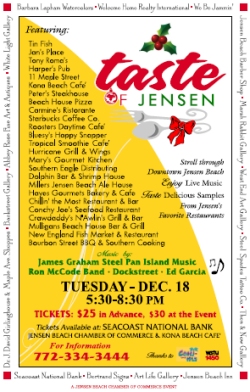 "Taste of Jensen", a 15-year Jensen Beach Christmas tradition, will be held on Tuesday, December 18, in downtown Jensen Beach. Grown to 26 taste stations, and including live music and great holiday shopping opportunities, the popular "tasting" event is offering 450 tickets for sale at the Seacoast National Bank branches on Jensen Beach Boulevard and Hutchinson Island and at the Jensen Beach Chamber of Commerce located on Ricou Terrace in downtown Jensen Beach. Tasting hours are 5:30pm to 8:30pm
Lucky ticket holders will get the opportunity to taste and sample food from some of Jensen Beach's finest restaurants: New England Fish Market & Restaurant, Tin Fish, Tony Roma's, Kona Beach Café, Conchy Joe's Seafood Restaurant, Carmine's Ristorante, Bluesy's Happy Snapper, Miller's Jensen Beach Ale House, Chillin' The Most Restaurant and Bar, Dolphin Bar & Shrimp House, Hurricane Grill & Wings, Rooster's Daytime Café, Peter's Steakhouse, 11 Maple Street Restaurant, Jan's Place Restaurant, Mulligan's Beach House Bar & Grill, Crawdaddy's N'awlins Grill & Bar, Beach House Pizza, Hayes Gourmet Bakery & Café, Tropical Smoothie Cafe', Mary's Gourmet Kitchen, Bourbon Street BBQ & Southern Cooking, Also participating will be Southern Eagle Distributing Inc, Starbucks Coffee Company, & Harper's Pub.
This year participating restaurants will compete for six awards – People's Choice, Critic's Choice, Best Presentation, Best Featured Entrée, Best Dessert, and Best Beverage.
Live non-stop music will be featured during the event by James Graham Steel Pan Band Island Music, Ron McCode Band, Dockstreet and Ed Garcia.
"Taste of Jensen" is sponsored by: Seacoast National Bank, WHLG Coast 101.3 FM, WSTU, Marsh Rabbit Gallery, Jensen Beach Barber Shop, Steel Spades Tattoo Company, West End Art Gallery, Backstreet Gallery, Then & Now Gallery, Art Life Gallery, Abbey Rose Antiques and Fine Art, Welcome Home Realty International, Barbara Lapham Watercolors, Jensen Beach Inn, White Light Gallery, Dr. J. David Girlinghouse and Maple Avenue Shoppes, We Be Jammin', and Bertrand Signs.
The "Taste of Jensen" is a Jensen Beach Chamber of Commerce event. For more information call 772-334-3444