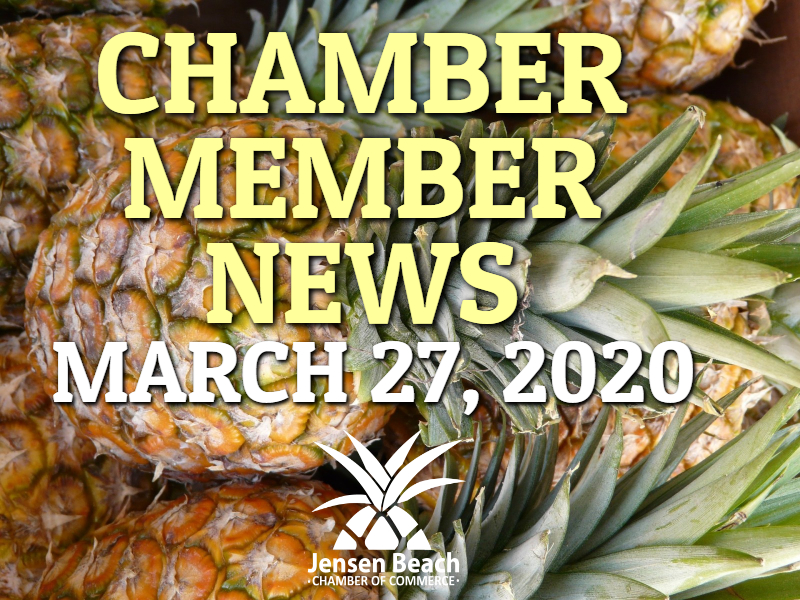 Dear Member,
On behalf of Jensen Beach Chamber of Commerce Board of Directors, we want our members to know we share the magnitude of the COVID-19 impact on you, your families, and your business. We are focused on helping our community and businesses with the overall uncertainty of this crisis and assist however we can. Several of our members have told us they are struggling, and we want to make sure every local business (member and non-member) has the best chance of success. Your Chamber is totally focused on providing direct support to our business members and the community. Please read the valuable resource information we have collected below.
Even though we have suspended or postpone all in-person meetings, networking, and programming events for the foreseeable future. Lisa and I will remain accessible and we encourage you to reach out through email ron@jensenbeach.biz, lisa@jensenbeach.biz, or by calling our office for any assistance (772) 334-3444. Please peruse the important and beneficial information below we have gathered.
JENSEN BEACH CHAMBER BUSINESS INTELLIGENCE REPORT – Small Business Survival Strategies (see attachment)
Facebook Group -The Jensen Beach Chamber of Commerce has launched a Members OnlyFacebook Group to create an effective platform for meaningful member to member communication and interaction. The public can view all posts, but to join the group, you must be a member of the Jensen Beach Chamber of Commerce. We encourage you to make periodic posts highlighting anything you want to share with the membership and the public such as if your business is open, but your hours of operation have changed. Also, if your business has temporarily closed, be sure and post when you are reopened for business. We also encourage you to search the group of Chamber members for any goods or services you or your business may need.
CLICK ON THIS LINK TO JOIN THE JENSEN BEACH CHAMBER MEMBER FACEBOOK GROUP
SBA Disaster Relief Loans – The big news is the eminent approval of the $2 Trillion Coronavirus Aid, Relief, and Economic Security (CARES) Act. Florida is recognized by the SBA website as an eligible state. For those small businesses attempting to apply for SBA Disaster Relief Loans, the system may be very slow due to an extremely high volume of users currently in the system. You will need to register prior to filling out an application.
Prefer to apply on paper? Download the paper form.
For additional information, contact the SBA disaster assistance customer service center. Call 800-659-2955 (TTY: 1-800-877-8339) or e-mail disastercustomerservice@sba.gov.
Visit the SBA's small business guidance to learn more about loans and workplace guidelines relative to the novel coronavirus.
Small Business Administration (SBA) Economic Injury Disaster Loan provides access to capital up to $2 million with an interest rate of 3.75% (2.75% for non-profits) and a term of up to 30 years. Click here for more information: https://disasterloan.sba.gov/ela/Home/OfflineApply
Small Business Development Center (SBDC) Small Business Emergency Loan has begun reviewing and approving applications to provide businesses immediate access to short-term capital. The loan program offers access to capital up to $50,000 for 12-months at 0% interest. Click here for more information: http://floridajobs.org/rebuildflorida/businessrecovery
Unemployment assistance – The FLORIDA DEPARTMENT OF ECONOMIC OPPORTUNITY has extended the UNEMPLOYMENT BENEFITS HOTLINE HOURS to better serve individuals seeking assistance. The hotline is now available seven days a week at 1-800-681-8102. Governor DeSantis has waived the eligibility requirements for claimants currently seeking unemployment. Claimants do not need to register with the state job search portal (Employ Florida) and do not need to submit the number of employers they contact each week. The suspension of these requirements has a retroactive start date of March 15, 2020 through May 2, 2020 pursuant to Governor's Order 20-52. Click here to view the Department of Economic Opportunity Emergency Order 20-011.  For additional information visithttp://www.floridajobs.org/Reemployment-Assistance-Service-Center/reemployment-assistance/claimants.
Tax updates – The IRS had unveiled a new PEOPLE FIRST INITIATIVE which includes a sweeping series of steps to assist taxpayers by providing relief on a variety of issues ranging from easing payment guidelines to postponing compliance actions. Please click here to read how these initiatives can best assist you and your business in this challenging time. 
Tax Day has moved from April 15 to July 15. All taxpayers and businesses will have this additional time to file and make payments without interest or penalties.
The Business Development Board of Martin County will help navigate the local, regional, state and national resources. The BDB has created a COVID-19 BIZ Hub to help centralize all current and forthcoming information on key announcements, new services, programs, virtual events and community efforts to assist local businesses through this ever-changing environment. You can also call them at 772.221.1380 or email info@bdbmc.org with any questions or needs.
United Way of Martin County has partnered with other local funders to establish a coordinated COVID19 application process for our nonprofits providing services. Funding priorities include:
Emergency food, shelter and other basic needs
Expansion of service capacity related to increased demand for direct services
Access to health care services for uninsured and underinsured clients
Technology and other resources to allow your organization to continue to provide services
Click here for more information about the Coronavirus (COVID-19) Relief & Recovery application process.
Bartender Emergency Assistance Program – Learn more at: https://www.usbgfoundation.org/beap
Martin County School District's Food & Nutrition Services (FNS) Department will serve free meals to children in the Martin County community from 9:30am to 12pm (Monday, March 23 – Wednesday, April 15)
Effective March 27, 2020, the Florida Department of Agriculture & Consumer Services will NOT require students to be present to receive meals, but parents/guardians should be prepared to provide one of the following documents to receive a meal for their child(ren) who are not present:
School ID (any school – MCSD-operated school, charter or private)
Birth certificate/passport/religious record
Daycare record
Meals will be served to children aged 18 and under at the following locations: Beginning Monday, March 30, FNS will begin serving meals to children aged 18 and under at Jensen Beach Elementary School
Advanced Placement Resource – High School students will have access to free, live Advanced Placement review lessons by AP teachers from across the US. The classes are optional, mobile-friendly and designed to be used with work that may be given by schools. Click here for information.
MCSD K-12 Laptop Deployment – The Martin County School District is preparing for distance learning by distributing devices to students that do not have a personal device to use outside the classroom. These devices will be distributed to K-8 students according to this schedule. High school students will use their previously-issued Laptops 4 Learning (L4L) devices. High school students who do not have an L4L device will be able to pick up one of these devices at their high school using the process outlined here on Friday, March 27, between 1-5pm.
Martin County Boys & Girls Clubs will provide free meals to children under the age 18, whether they are club members or not. This will continue until further notice. Meals provided will include dinner/snack and can be picked up drive-through style outside the clubs (walk-ups, bikes okay). Youth can continue to stop by from 4pm to 8pm. Families can pick up from 6:30pm to 8pm
Meals are available for pick up at:
Cloe-Clark Club, 11500 SE Lares Ave., Hobe Sound
Bill & Barbara Whitman Club, 17375 SW Palm Beach St., Indiantown
H. Wayne Huizenga Club, 1150 SW Martin Downs Blvd., Palm City
John & Marge Bolton Club, 4731 SE Flounder Ave., Stuart
Martin County Community Information Line: (772) 287-1652 (7am – 6pm)https://www.martin.fl.us/Coronavirus  Residents are encouraged to sign up to receive emergency alerts including information about COVID-19 by phone, text, and/or email. To sign up, text ALERTMARTIN to 888777, or register online.
CENSUS 2020 – In order to be accurately represented, it is important that every Martin County resident be counted in the Census. It is estimated it costs local government $1,600 for every person missed. Martin County's response rate in the 2010 Census was 78%. For our community, that means a loss of over $51 MILLION each year that could have been used for vital programs and essential services. Over the 10-year period, that equates to approximately $512 million dollars. More info at https://www.census.gov
Please read the message from Kate P. Cotner, Senior External Affairs Advisor, Florida Power & Light Company below.
Sincerely,
Ronald E. Rose, President CEO
Jensen Beach Chamber of Commerce
1960 NE Jensen Beach Boulevard
Jensen Beach, FL 34957
w: (772) 334-3444
c: (772) 341-6772
Ron@JensenBeach.biz
Message from Kate P. Cotner, Senior External Affairs Advisor, Florida Power & Light Company
At FPL, we have a strong track record of preparing for many kinds of emergencies, and we are prepared to respond to the coronavirus (COVID-19) pandemic.
As part of our standard preparedness protocol, we have been closely assessing the impact of COVID-19. Since the start of the outbreak, we have been urging our employees to follow recommendations from the Centers for Disease Control and Prevention, and the World Health Organization for protecting themselves and others from this virus
Just as we do with our emergency situations, we have implemented our pandemic plan and are following our well-established procedures for ensuring continuity of service. This includes limiting access to our control centers to essential personnel only and putting various processes and procedures in place that are designed to limit the spread of the virus.
We know this a difficult and unsettling time and as Floridians, neighbors, friends and family, we are in this together. If customers are experiencing hardship as a result of COVID-19, FPL has resources available at www.FPL.com/Help, in addition to those available from federal, state and local authorities.
We have also implemented the same policies that we do during major crisis events, which include:
Suspending electrical disconnections
Providing payment extensions
Waiving certain late payment fees for customers in a hardship situation
FPL is also supporting communities throughout the state through our charitable foundation. For those who can afford or want to help others who may need assistance, they can make a donation to our 'Care to Share' program. All contributions are distributed to the communities that we serve through a network of nonprofit human-service agencies, and there are no administrative fees.
FPL won't stop delivering affordable, reliable power that our customers can count on. We take very seriously our duty to serve all of our 5 million customers. The company is responding to the coronavirus challenge by providing the critical infrastructure and electricity that powers our state's hospitals, health care facilities, emergency response centers, and all of our residential and business customers.
Along with our investments in smart grid technology and modern generation equipment, we have extensive plans in place to ensure that we meet the energy needs of all customers and communities during these difficult times, while doing all we can to protect the health and safety of our crews as we power these essential operations. This includes limiting access to our control centers to essential personnel only and putting various processes and procedures in place that are designed to limit the spread of the virus.
In order to do this, customers may continue to see FPL crews working in the communities we serve, performing work such as tree trimming, executing undergrounding and hardening projects, as well as requesting access to your property to check on equipment. This work is essential to keeping our electric grid operating smoothly as we approach hurricane season, and we ask our customers to support their efforts by practicing appropriate social distancing.