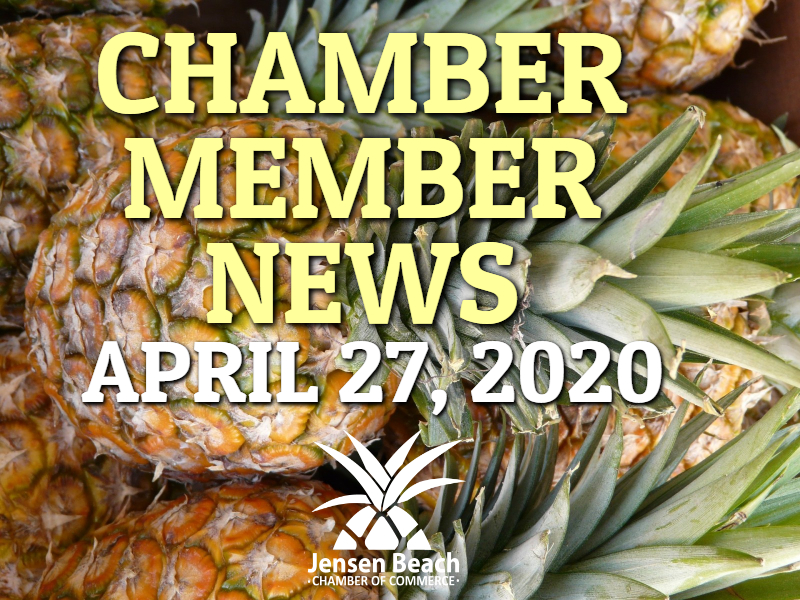 If you haven't responded to the JBCC COVID-19 survey, please take a few minutes to complete our brief SURVEY. Thank you.
****************************************************
Get Ready section to the Martin County Biz Hub — information and best practices in one place (Business Development Board of Martin County).
****************************************************
Martin County Community Update: April 27, 2020
RECENT UPDATES
*New* Racquet sports:
At their April 21 meeting, the board approved a motion to allow singles and single player racquet sports at Martin County parks. The board requests that players participating in these sports adhere to social distancing guidelines on and off the courts. In addition, it's important for players to clean and disinfect high touch surfaces including rackets, tennis balls, court equipment and gate handles.
*New* Testing criteria updated:
Cleveland Clinic Martin Health is performing drive-thru testing for COVID-19 by appointment only at Martin North Hospital, 200 SE Hospital Avenue in Stuart, and Tradition Hospital, 10000 SW Innovation Way in Port St. Lucie. Anyone over the age of 16 who has a fever and respiratory illness (such as cough, runny nose, sneezing) or any patient with a fever and gastrointestinal illness (such as diarrhea, vomiting) is eligible for testing. For an appointment, individuals must call 772-419-3360, between 8 a.m. – 5 p.m., Monday – Friday and 8 a.m. – 3 p.m., Saturday and Sunday. Testing hours for both locations are from 9 a.m. – 3 p.m., Monday – Friday and 9 a.m. – 1 p.m., Saturday and Sunday. For additional information, visit www.martinhealth.org.
*New* School District:
All Florida school districts will remain closed for the remainder of the 2019-2020 academic year. All Martin County School District and school-related events, programs, athletic events and activities have been canceled for the same time period, with the exception of high school graduation ceremonies. More information about graduation ceremonies will be shared with seniors and their families soon.
*New* Paycheck Protection Program:
A $484 billion coronavirus rescue package has been signed into law and the bill includes over $300 billion for the Paycheck Protection Program, an initiative that offers loans to businesses that can be forgiven if the money is used to keep employees on payrolls. Updates will be provided here.
*New* WIC Program:
The Florida Department of Health in Martin County has announced that some clients of the Women, Infants and Children program may be able to receive some services over the phone. For more information about the WIC program, call 772-221-4986.
*New* Re-open Florida Task Force:
Governor Ron DeSantis has established a Re-open Florida Task Force with working groups to address steps to re-open Florida's economy in the time of COVID-19. More info at www.flgov.com/covid-19/.
*New* Florida Department of Health (Long-term care facilities):
The Florida Department of Health has published a list of long-term care facilities that have had a confirmed case of COVID-19 in staff and/or residents. A copy of the report can be found here.
*New* Local State of Emergency:
The Martin County Local State of Emergency was extended to 4/27/2020 to include previously issued Emergency Orders. Read the most recent order here.
*New* Special BOCC meeting:
The next special meeting of the Martin County Board of County Commissioners is tentatively scheduled for Wednesday, April 29 at 9 a.m. in the John F. and Rita M. Armstrong Wing of the Blake Library. The meeting date is subject to change based on receipt and review of recommendations from the Governor's Re-open Florida Task Force. Meetings are open to the public and available on MCTV, Comcast Channel 20 and U-verse Channel 99. The meetings are also streamed on our website at www.martin.fl.us and on Martin County's Facebook and YouTube pages.